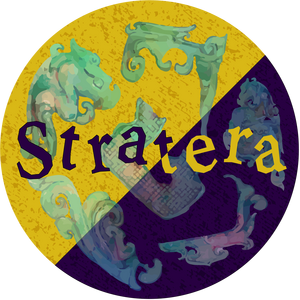 Stratera: the Card Game
Stratera is an indie, social deduction card game that invites your group of 6-10 players into an archaeological adventure, retrieving lost artifacts and revealing tales of your enchanting journey.
About
Stratera, a play on statera which, in Latin, means "balance," is a game that showcases the artistic and whimsical side of archaeology, evoking interest through piecing together renowned artifacts and recreating the journeys of real archaeologists in our stories. We hope that this game can provide a closer look into the mysterious work of archaeology and to provoke interest of the players with fresh characters, roles, and scenery.

The art and design featured in Stratera has been extensively researched by those in the field, to provide an accurate visual representation, while retaining an original aesthetic.

The game is friendly to all levels of players due to the delicate balance between logic and luck, allowing both competitive and casual players to experience playing at their own pace. As the name suggests, strategy at any level will emerge through a variety of eras, hoping to be an enjoyable experience for all who play Stratera.
Contact
If you want to get in touch with our team, please reach out! We would be more than happy to speak with you.